Sr Mimoza Paluca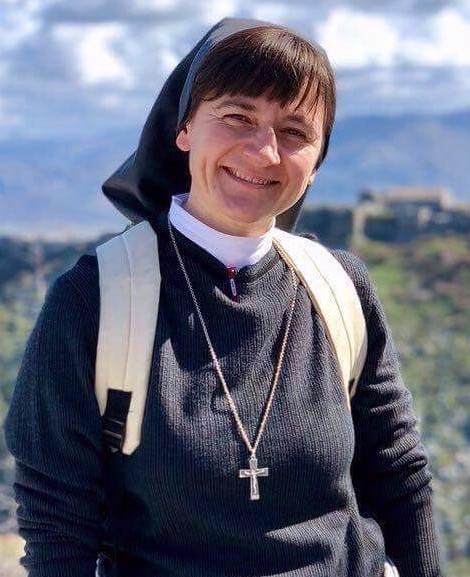 Academic Qualifications
Master of Science in Social Philosophy, University of Tirana in Albania
---
Biography
Sr Mimoza Paluca received her primary and secondary education in Shkoder, Albania. In 2006, she completed high school in Naples, Italy and started her vocational journey towards consecrated life as an aspirant with the Daughters of Mary Help of Christians. Her formation towards consecrated life started in Casa della Giovane in Turin, Italy and continued in Castel Gandolfo in Rome, Italy. This journey culminated on 5th August 2009, when she made her First Profession.
Shortly after this, she returned to Albania to pursue her Master of Science in Social Philosophy at the Faculty of Social Sciences within the University of Tirana. Mgr George Frendo, who was then Bishop of Tirana, entrusted her with pastoral work involving young people within the diocese. She devoted several years to this pastoral role, providing her with valuable experience in engaging with young people and enhancing her ability to accompany them. From 2013 to 2014, she served as a member and secretary of the Pastoral Youth Commission at Archdiocese of Tiranë-Durrës.
She then moved to Shkoder, Albania where she took on the role of a teacher in a high school administered by Salesian Sisters. During her time in Shkoder she also taught ethics and metaphysics at the local interdiocesan seminary for three years. While in Shkoder she had the opportunity to experience the '10 commandamenti' program, a formative journey created by Rev. Fabio Rosini with the aim to assist young people discern God's by focusing on their best qualities. She was the first Albanian sister to undergo this formative journey, an experience that helped her integrate faith and reason.
In 2018, she pursued her theological studies at the Pontifical Gregorian University in Rome, Italy. She specialized in Anthropology and Theology of the Fathers of the Church. In the same year, she engaged in a formative journey created by Rev. Fabio Rosini, which served follow-up to '10 commandamenti' program. During her studies in Rome she translated two Italian books into the Albanian language. These books, titled L'arte di Purificare il Cuore and Noi nella Trinita by Cardinal Tomáš Špidlík S.J, where subsequently published in collaboration with the Seminary of Shkoder.
In 2019, she relocated to Malta as part of a founding community tasked with establishing the presence of the Salesian Sisters in Sliema, Malta. This mission is under the province of Mary, Mother of Good Counsel in Naples, Italy. She initiated her mission in Malta at St Patrick's residence within the same locality. During this period, she was approached by the RCIA team of the Archdiocese of Malta to provide catechesis for an Albanian lady. This role eventually expanded, with Sr Mimoza being entrusted by Mgr Charles J. Scicluna to provide catechesis for candidates preparing for sacrament of Baptism, a role she still occupies. Additionally, Mgr Charles J. Scicluna appointed her as chaplain of G.F Abela Junior College, a role she occupied for two years.
Lectures in: